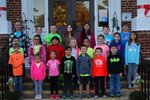 Students are listed from left to right beginning with the bottom row. Liam Steen, Kya Kimmy, Bella Sabbagha, Peyton Butler, Van Hayes, Aiden Livingston, Eli Kednocker Ryan Mills, Makayla Bryant, Justin Lopez – Sosa, Cathryn Folk, Dominick Lucas, Kylie Senn, Alli Morris, Maddi Stribble Maddi Gilstrap, Aerie Longshore, Ryan Condor, Bailey Meetze, Diana Lima Martinez, Ky Morris, Chance MacDermott
Habit # 2 – Begin with the end in mind
For the month of October, Little Mountain Elementary, selected students for Habit # 2 – Begin with the end in mind. Throughout the month, the faculty, staff, and students integrated in their daily routine this concept. For the students, this habit means that they plan ahead and set goals. They do things that have meaning and make a difference. They are an important part of their classroom and contribute to their school's mission and vision. The students will look for ways to be a good citizen.
These young leaders were selected by their homeroom teachers for their leadership skills and excellent actions inside and outside of the classroom. We are very proud to recognize the students pictured as true Leaders on the Block for Habit #2.
Students are listed from left to right beginning with the bottom row.
Liam Steen, Kya Kimmy, Bella Sabbagha, Peyton Butler, Van Hayes, Aiden Livingston, Eli Kednocker
Ryan Mills, Makayla Bryant, Justin Lopez – Sosa, Cathryn Folk, Dominick Lucas, Kylie Senn, Alli Morris, Maddi Stribble
Maddi Gilstrap, Aerie Longshore, Ryan Condor, Bailey Meetze, Diana Lima Martinez, Ky Morris, Chance MacDermott